I got this award from
Abi
!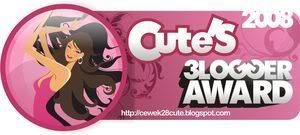 Random Things About Me? Read on:
- I absolutely love chicken. For food, that is.
- Bejeweled Addict.
- Harry Potter fanatic.
- Internet freak. I check my email and other stuff as soon as I wake up!
- I love wristlets and cute (read: small) purses
- Mall rat.
- Pack rat.
- I abhor rats especially those big, hairy ones. Eeew!
- I love being a Mom and Wife.
- I procrastinate a lot. See, Abi tagged me last Nov. 9 and it's Nov. 15 now. Tsk.
I'm tagging:
Prima