There are many season premieres this coming September but I am so looking forward to One Tree Hill's Season 6 which is slated to debut on September 1.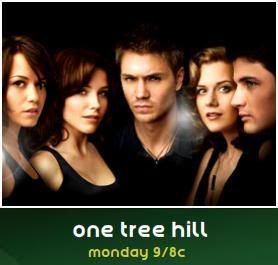 Just a few more days to go and the answer to the cliffhangers left by last season's finale will finally be answered. Who did Lucas propose to? Did Dan die? Will Nathan dump Haley and finally realize that we're totally MFEO? LOL. Okay, so the last one is just wishful thinking on my part but really, I'm dying to find out the answers. I have been searching online for spoilers but I haven't found any yet. The most I found are from other fanatics too who are also discussing who Lucas marries (if that scene was indeed real and not some dream sequence) in the end. My bet is on Peyton simply because they love each other and it would be nice to finally get the happy ending that they deserve.
According to spoilers I've read, some characters like Nanny Carrie and Rachel will return for this season and this early, I'm wondering what problem will Nanny Carrie bring to the family of Nathan again while I hope Rachel comes back as a changed woman. I'm thinking she took Brook's wad of cash so hopefully she put it in to good use unless she went back to taking drugs.
With the return of OTH, I'll have something to look forward to every week. It will surely help me de-stress from work as I have a lot going on in the next few weeks ;)
xoxo